If you or a family member are missing teeth or need to secure your denture, our dentists at Kent Street Dental Centre in Ottawa can replace them with dental implants.
---
What are dental implants?
Dental implants are artificial tooth roots made from titanium. The titanium implant is placed into the jawbone and left to heal until it has fully integrated into the jaw. This period can take several months.
When the implant is stable it will act as an anchor to hold the crown or denture in place. Dental implants can be used to replace a single missing tooth or multiple teeth. 
What are the advantages of dental implants?
Eliminates further bone loss - If your teeth are missing in your jaw, the bone may slowly disappear. With dental implants, it will stimulate the bone in your jaw, allowing your body to maintain the bone in the area - acting similar to natural teeth.
Similar function - Implants will act and feel like natural teeth. While eating, your implants will function similar to your other teeth, making the whole experience positive.
Gum disease - Dental implants can give you a second chance at healthy gums. Patients who have lost some of their teeth due to gum disease, have had their teeth restored with implants.
Once our dentists remove the damaged teeth, the affected area will improve. We recommend maintaining the life of your implants through established oral care routines at home in addition to regular check ups.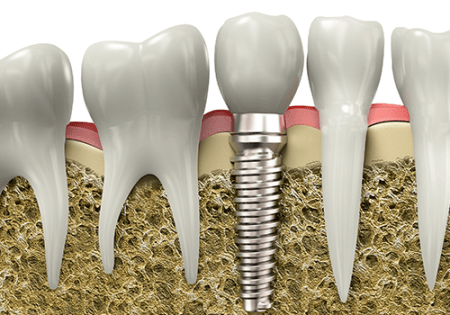 ---
Implant restoration is the process of creating an artificial tooth crown and connecting it your implant.
When and how will my implant restoration be placed?
The crown or bridge, which will be visible in your smile, can only be attached when the soft tissue around the implant has completely healed.
Sufficient healing will need to take place to allow us to proceed with the implant.  We will place a small metal post it directly into the implant.
This will attach directly to your crown or bridge. After that, we will take an impression of your teeth which will be used to make your custom-made crown or bridge.
A temporary crown or bridge will be attached to the abutment until your custom-fitted crown is ready. When your custom-made crown is available, another short appointment is required to place it into your implant.
What will my new implant "tooth" look like?
Every patient's smile is different, so every crown and bridge will be different. Our dental team will help you select a shade and shape your crown  so that it fits your smile goals. 
How will I care for my new implant?
Dental implants can be very durable if well cared for. You should care for your implant as you care for your natural teeth with daily brushing and flossing and regular check-ups and cleanings.
---
How will I know if I am a candidate for implants?
If you are missing teeth due to age, accident or decay, and want a permanent solution to restore your beautiful smile, you might be a candidate for dental implants. Our experienced team will be pleased to meet with you to discuss whether dental implants are right for you.
Dr. Yassine provides complimentary consultations for dental implants. Book your appointment today at Kent Street Dental. Request Appointment
---